Keep your side view mirrors free from bird poop and bird droppings that can damage the paint on your car, bird pecking, bird attacks, scratches and scuffs!


Your should have all of these items (above) in your trunk for safe winter driving - plus your cell phone and a real  spare tire! 

Amazon Car Emergency Kit Bestsellers

Driving in an Ice Storm (video)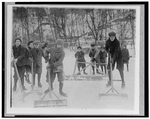 You put a baby in a crib with an apple and a rabbit. If it eats the rabbit and plays with the apple, I'll buy you a new car. ~ Harvey Diamond
---
Nancy Reagan said it best, "Just Say No". This video needs no introduction. The folly of diving on ice is obvious.

But, if you must drive on ice follow these rules for safe motoring on ice. Even better, just stay at home - or wherever you are - if at all possible.
Back to: Driving Techniques
* Icy, Slippery or Snow Covered Roads
* Driving in Bad Weather – Part 1
* Driving in Bad Weather – Part 2
* Driving in a Blizzard
* Driving in an Ice Storm (video)
* Driving in Fog
* Handling a Skid
* Handle a Skid on Snow or Ice (video)
* Skidding To Make a Turn?
No matter how well you plan, stuff can happen when you're driving your car or truck in the winter's cold. Best to have these items in your trunk just in case that emergency crops up.
---
We cling to our own point of view, as though everything depended on it. Yet our opinions have no permanence; like autumn and winter, they gradually pass away. ~ Chuang Tzu