MirrorMateMitts™ - Gloves for your car!
Winter Driving - Part 1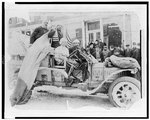 I have bad reflexes. I was once run over by a car being pushed by two guys. ~ Woody Allen
---
Proper motoring in cold weather is having the ability to assess changing road conditions, understanding how your vehicle handles in these different situations and keeping your vehicle under control.
Prior to starting your car one should make sure your wiper blades are in good shape – or be replaced, your fluids and battery are checked, emergency supplies are on hand in the trunk, and have the heater and defroster tested to be certain they are in good working order.
(For more information, see 'Winterizing Tips' Part One and Part Two.)

* Starting Your Car on a Cold Morning
* Clean That Snow off Your Roof!
* Removing Windshield Ice
* Opening a Frozen Lock
- Opening a Stuck Lock 
* Frozen Doors, Locks, Wipers, Gas Lines
 - Stuck Doors, Locks, Wipers, Gas Lines
---
In seed time learn, in harvest teach, in winter enjoy. ~ William Blake