Car Side View Mirror Covers


Your should have all of these items (above) in your trunk for safe summer and winter driving - plus your cell phone and a real  spare tire! 

Amazon Oil and Fluids Bestsellers

Transmission Fluid and Winter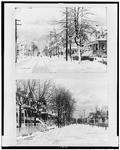 Electronics experts say that by 2009 people will be able to watch TV programs on their cell phones. So we are now exactly 4 years away from the largest car accident is history. ~ Jay Leno

---
After your car gets stuck in snow is the wrong time to think about your transmission fluid. Here's an explanation of what happens to your transmission during the winter and how you can protect it so your vehicle doesn't leave you stranded in the cold, ice and snow of the season.
Winter's cold is hard on your car, including it's transmission. So how do you know if your transmission fluid is low? This list of symptoms of low transmission fluid gives you a good indication of what to look for. One sign is if the transmission slips while changing gears.
The snow, ice and cold of the winter season can raise havoc with your vehicle's transmission. Here's pretty thorough advice about how to protect your transmission during the winter season.
What good is knowing that your transmission fluid is low if you don't know how to add more? Adding transmission fluid is easy when you follow theses steps. This video shows you exactly what to do.
Back to: Fluids
* Car Fluid Levels
* Change Your Oil!
* Antifreeze: The Green Stuff
* Check Your Coolant Level (video)
* Brake Fluid with (video)
* Transmission Fluid with (video)
No matter how well you plan, stuff can happen when you're driving your car or truck in the winter's heat. Best to have these items in your trunk just in case that emergency crops up.
---
Winter is an etching, spring a watercolor, summer an oil painting and autumn a mosaic of them all. ~ Stanley Horowitz