Car Side View Mirror Covers


Your should have all of these items (above) in your trunk for safe winter driving - plus your cell phone and a real  spare tire! 

Amazon Car Emergency Kit Bestsellers

Winter Driving (video)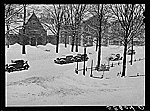 If everything seems under control, you're just not going fast enough. ~ Mario Andretti
---
You've got to have skills to properly drive your car in winter weather conditions - and a safe vehicle too. This short video explains winter driving conditions and how to maintain your car during the snow, and ice of the season. And don't forget to keep your gas tank at least half full.

The fall season is over and the ice and snow of winter has arrived. The video offers some valuable winter safety driving tips  to maintain your vehicle and help keep you from being stuck on the side of the road.
Back to: Driving in Winter - Part 2
* Winter Driving Safety Tips
* Driving Safely in Snow
* Winter Driving: Car Talk
* Oversteer and Understeer
* Winter Driving (video) 
* Driving on Ice
* Proper Vehicle Spacing (video)
* Winter Driving Quiz
No matter how well you plan, stuff can happen when you're driving your car or truck in the winter's cold. Best to have these items in your trunk just in case that emergency crops up.
---
An old man loved is winter with flowers. ~ German Proverb