Car Side View Mirror Covers


Your should have all of these items (above) in your trunk for safe summer and winter driving - plus your cell phone and a real  spare tire! 

Amazon Oil and Fluids Bestsellers

Winterize Your Antifreeze (video)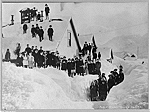 When I become president, all you a**holes that ride bikes in the city? Lock and load! You're going down! ~ Denis Leary

---
Two years or 30,000 miles is the suggested lifetime for the antifreeze in your vehicle. If you need to add antifreeze/coolant, make sure you mix it with water before adding to your car's antifreeze reservoir. it's very easy to winterize your antifreeze. This video demonstrates how to mix and add antifreeze to your vehicle.
Everybody knows you need certain items in your car - like an ice scraper and car emergency kit - for the winter weather. But winterizing your car also includes checking your antifreeze to make sure you don't end up stranded on the side of the road. This article explains what antifreeze is and how it protects your car. Learn how to flush and check your antifreeze too.
Back to: Fluids
* Car Fluid Levels
* Change Your Oil!
* Antifreeze: The Green Stuff
* Check Your Coolant Level (video)
* Brake Fluid with (video)
* Transmission Fluid with (video)
No matter how well you plan, stuff can happen when you're driving your car or truck in the winter's heat. Best to have these items in your trunk just in case that emergency crops up.
---
Rarity gives a charm; so early fruits and winter roses are the most prized; and coyness sets off an extravagant mistress, while the door always open tempts no suitor. ~ Marcus Valerius Martial