Car Side View Mirror Covers


Replace Your Car Battery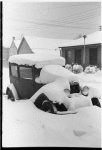 By 2000, downtown Honolulu-like cities on the Mainland-will be off limits to private automobiles... ~ Reporter William Helton, 1970
---
The frigid temperatures of the winter season can do a number on your car - especially your battery. Bad news first, and we'll assume the worst: you go outside, turn the key and your vehicle doesn't crank because your battery is dead. This video shows in a step-by-step fashion how easy it is to replace your car's battery.
Turning that key in the ignition on a cold winter day and getting...nothing is frustrating to say the least. But there are steps you can take to make sure your battery stays alive during the winter. Follow these tips - in addition to winterizing your car - for happy motoring in the cold weather.

The number one reason for car breakdowns in the winter is a dead battery. In the event you have to do so, here's the procedure for changing the dead battery in your car.

BTW: spotting the warning signs that your battery might be in trouble is important to know before you get stranded during the cold winter season. Here's another take on how to figure out if your battery needs replacing.
Regardless of whether or not you think your battery is ready to face the rigors of the winter season, part of winterizing your car is to include a car emergency kit in your vehicle. Winter's cold and snow doesn't play.
Back to: Batteries

* Basics for Colder Weather
* Do's and Don'ts / Maintenance
* Jump Start Your Battery
* Jump Start (video)
* Change Your Battery (video)
* Block Heaters

This ezvid video lists this year's top 10 car batteries. Their criteria for ranking these batteries are: high cold cranking amps 100% maintenance free, and offering good warranties from their manufacturers.
---
An optimist stays up until midnight to see the new year in. A pessimist stays up to make sure the old year leaves. ~ Bill Vaughan