Easy to Follow Winter Car Care and
Safe Driving Tips!
Winter car care and safe driving tips are essential as the cool fall weather signals that the snow, ice and hazards of seasonal motoring are just around the corner. If you winterize your car now for the coming harsh weather you enhance your vehicle's life, saving you from expensive repair bills. And rest assured: winter car care is easy to do!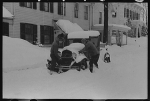 Don't be one of the estimated 70% of motorists who do not prepare their cars for winter weather.
Learn how to ready your vehicle, as well as discover how to handle your vehicle during the season with these articles and video tips from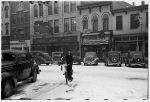 Edmunds, Car Talk, Car and Driver, The Weather Channel, CanadianDriver and more.
Let's get started making your motoring as safe as possible this winter!
Photos courtesy of Library of Congress
Winterizing your car tips for properly preparing your vehicle for the cold weather: inspecting the battery, fluids, tires, windshield and wipers before winter arrives.
Winterizing your car tips for making sure your car, SUV or minivan is ready for the cold, including washing the exterior and cleaning carpets too.
Keep Your Side View Mirrors Ice, Snow, Frost, Bird Poop/Bird Droppings/Pecking and Scuff Free! Never scrape your side mirrors again with MirrorMateMitts™.
Winter driving safely means having the ability to assess changing road conditions, understanding how your vehicle handles in these different situations and keeping your vehicle under control.
Winter driving safely also means adjusting your motoring habits and understanding over/understeer, proper vehicle spacing, driving on snow and ice and more.
Does your car or truck need snow or winter tires? It depends on where you live and your driving habits.
Winter driving techniques can be learned with practice. Discover how to drive in adverse winter weather.
Winter driving safety tips we can all use, whether you're a teen just starting to drive, or an older adult.
A winter driving emergency, such as being stuck in snow, is no fun, but can also turn dangerous. Here's how to handle potential situations.
Accidents can happen to the best drivers at one time or another. Here are tips that will help make it less traumatic.
Dead batteries and winter driving do not go together. Test or replace yours out now.
Your windshield and wipers should not be neglected when preparing your car for winter.
To set your side view mirror for maximum visibility is easy to do. A side mirror repair too. Here's how.
Your car fluids - oil, antifreeze, brake and transmission - should be checked before winter arrives. Here's what to do.