Winter Driving - Part 2
Prior to starting your car one should make sure your wiper blades are in good shape – or be replaced, your fluids and battery are checked, emergency supplies are on hand in the trunk, and have the heater and defroster tested to be certain they are in good working order. For more information, see 'Winterizing Tips', parts one and two.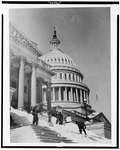 Don't drive as if you owned the road. Drive as if you owned the car. ~ Anonymous
Now that the car is cleared off, it's time to hit the road.
Driving in Winter - Part 2
* Safety Tips

* Driving Safely in Snowy Conditions

* Winter Driving: Car Talk

* Oversteer and Understeer

* Winter Driving (video)

* Driving on Ice

* Proper Vehicle Spacing (video)

* Quiz


Next:
* Snow Tires

MirrorMateMitts™
Never Scrape Your Side Mirrors Again!