Keep your side view mirrors free from bird poop and bird droppings that can damage the paint on your car, bird pecking, bird attacks, scratches and scuffs!


Tips for Driving in Winter Weather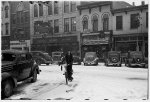 No winter lasts forever. No spring skips its turn.~ Hal Borland
---
Winter weather driving requires repeated practice. So, review these tips before the snow and ice of the winter season cover the road. (And be sure to take the time to winterize your car before the first snowflakes fall.)
Here are winter driving tips we can all use, whether you're an older adult or expert driver with years behind the wheel, or a teen who is just beginning a lifetime of motoring.
* Winter Driving Tips For Teens
* Winter Driving Tips For Older Adults
* The Winter Driving School Experience
* 4x4 Winter Driving Tips
* Winter Driving Tips For the Canadian Winter Driver
* Long Distance Travel in Winter
* New Car Winter Technology

Next:
* Emergencies

---
For the unlearned, old age is winter; for the learned it is the season of the harvest. ~ The Talmud